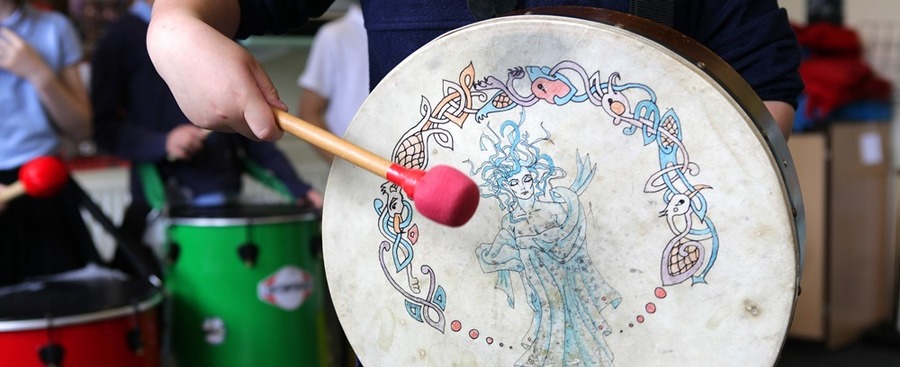 Music
Music forms an important element in the creative arts curriculum of the school. Our music policy ensures that every child in the school experiences a wide variety of musical activities.
Class music is taught by a specialist music teacher. We use a wide range of instruments and have a music room, which is used for class and instrumental lessons. The music skills we aim to develop include singing, listening and appraising, composing and performing. Children also learn about music from various historical eras as well as music of different cultures and countries of the world. All children have the opportunity to learn an instrument in year 4 as part of the Soundmakers scheme; currently our children learn how to play the Ukulele.
Patcham Junior School Virtual Christmas Concert 2020
We are very excited to announce the launch of the Patcham Junior School Virtual Christmas Concert 2020!
Because of the restrictions that we face this year, cramming everyone into the hall just isn't possible. We don't want to let that stop us as we know that we have such a vibrant, creative and musical community.
So, we have decided to do a virtual Christmas concert instead - here is how it will work;
To be part of the concert you will need to submit a Christmas performance video of approximately 60 – 90 seconds (no bigger than 14mb) to our school WhatsApp number (this will be shared at a later date to those who wish to submit a video - instructions are below). The video will then be edited by Mr Sutherland and Mrs Bogaru and will be uploaded onto the school YouTube channel on the last day of term for you all to enjoy over the festive period!
What to perform
Below are some ideas about what you perform;
Make sure you practise before you film, it will greatly improve the quality of the performance.
We would love to see you playing a Christmassy or wintery song on your musical instruments, as a solo or even as a family group or band.
We would like to hear solo singers (or a family duo or group), either acapella, accompanied by an acoustic instrument or a backing track.
Alternatively, we would like to hear you perform a festive poem written by you or a published author - remember to clearly say the title and author of the poem, especially if it's you!
How to film
Film on a mobile phone in landscape mode (usually this is filming whilst the device on its side, giving a wider picture).
Light from behind the camera, not from behind the performer wherever possible. Make sure it's not too dark as we all want to see who is performing!
Make sure that the sound on the video is clear and that whomever is filming you has a steady hand – ideally a tripod or something to secure the device/camera to works better.
Think about your backdrop – you could make the surroundings look festive and even dress up yourself! - don't film anywhere that would allude to your home address.
Introduce yourself by saying your first name, year group and what you are going to perform.
Make sure you stick to the time limit.
Try to include a few seconds at the beginning and at the end of your clip as this will help us when we edit the clips together.
How to submit the video
Submission deadline is 6pm on Saturday 5th December.
If you are wanting to take part, please choose the 'please send me the school's WhatsApp number for the Christmas Concert' option included in this PING message
We will then send you the number in the next few days, ready for you to submit your video.
When you are ready, simply upload your video to our School WhatsApp number – include your full name and class in the body of the message so we can make a note of who has submitted an entry – no full names will be used in the final video and no videos will be used if this information is not included in your message – please don't forget!
Then sit tight and wait for the finished video!
Safety and disclosures
By submitting a video to the WhatsApp number, you are giving your permission for the footage to be included in the school YouTube video. All footage must be submitted by a parent or carer via WhatsApp. Unfortunately, due to the high number of submissions expected, no other ways of submitting your footage will be possible on this occasion.
Submitted raw footage will be used to create the video and when the project is finished this raw footage will be permanently deleted.
The finished, edited video will be uploaded to the school YouTube channel on Friday 18th December and a link will be sent to the whole school community to enable them to watch our concert.
Children also have the opportunity to learn an instrument in school through peripatetic music lessons. Currently children can do the following:
violin
drumming
guitar
keyboard
Music lessons at Patcham

Drum: please contact Brighton and Hove Music and Arts to book a lesson for your child at Patcham Junior school. https://www.bhma.org.uk
Violin
If your child is interested in learning the violin at school, please visit https://www.patchamjun.org.uk/learning/music to see how to contact Lisa De Simone our violin teacher.
Keyboard
Please contact Hugh Bedford our in house keyboard teacher.
hu.bedford@gmail.com
Guitar
Please contact Rupert our in hour guitar teacher.
undefined info@guitarclubs.co.uk
Music lesson risk assessments
Please see below
For general music enquiries please contact our music teacher Mrs Bogaru
Katiebogaru@patchamjun.brighton-hove.sch.uk